IMPORTANT DATES
Sun. Dec. 5 – All Term 2 Tuition Payments Due
Mon. Dec. 6 – RAD Ballet Exams & Class Awards
Sat. Dec. 11 – Last Day of Classes in Term 1
Sun. Dec. 12 – Sat. Jan. 1 – Studio Closed for the holidays
Sun. Jan. 2 – First Day of Classes after Holiday Break
Fri. Jan 14 – PA Day Camp- Moana Themed
Mon. Feb. 21 – Studio Closed for Family Day
Fri. Mar 4 – PA Day Camp- Descendants Themed
Fri. Mar 4 – PA Day Camp – Descendants Themed
Sun. Mar. 6 – Sat. Mar 12 – Virtual Parent Viewing Week #2
Sun. Mar. 13 – Sat. Mar 19 – Studio Closed for March Break, except for March Break Day Camp
Sun. Mar. 6 – Sat. Mar 12 – Virtual Parent Viewing Week #2
Mon. Mar 14 – Fri. Mar 18 – March Break Camp – Dancing Through the Decades Theme
Fri. Apr 15 – Studio Closed for Good Friday
Sat. Apr 16 – Studio OPEN – all classes running
Sun. Apr. 17 – Studio Closed for Easter Sunday
Mon. Apr. 18 – Studio Closed for Easter Monday
Mon. May 23 – Studio Closed for Victoria Day
Fri. June 3 – PA Day Camp – Tangled Themed
Sat. June 11 – Last Day of Classes in Term 2
Holiday Break
Only twelve more days of classes until we all enjoy our three-week holiday break. The last day of classes is Saturday, December 11th, and all classes resume on Sunday, January 2nd. We wish all our dance families a holiday full of rest and relaxation, and we look forward to a wonderful year ahead.
Academic Year – Term 2 Enrollment
If you/your dancer is currently enrolled in 1st term (Sept-Dec) they are automatically enrolled for 2nd term (Jan-June) so no one loses their spot in our academic year programming, unless a family has emailed to let us know they aren't continuing. Second term tuition fees were posted to family accounts early in November and are due by Sunday, December 5th, after which the system will automatically apply a $20 late fee. Payments can be made through the parent portal with a credit card, or by e-transfer sent to the dance school's email address (nldc@northlondondancecentre.ca).
RAD Ballet Exams & Class Awards
Best wishes to our 26 candidates who will present their work to a Royal Academy of Dance examiner on December 6th.

Hyde Park Santa Claus Parade
Congratulations to the 39 dancers who danced their way across Gainsborough Road in the Hyde Park Santa Claus Parade on Saturday morning. We were so proud to have each of you represent our school so well. Missed the parade? Rogers will air the parade this Saturday, December 4th.
Covid-19 Precautions
We confirm that the following Covid-19 related precautions will continue to be followed at NLDC, and we commit to keeping you informed as guidelines change moving forward:
Active screening: complete your Covid-19 screening form online in advance for anyone planning to enter our facility each day: https://forms.gle/MoFzEScDYgWxyAKJA
Line up no more than 5 minutes in advance of your class & please do not block the entrances of neighbouring businesses or park in their dedicated parking spots. Please use the lines on the ground to stay 6' apart when queuing. If the front parking lot is full, you are welcome to use any of the 60+ spots at the rear of the building.
Please sanitize your hands coming in and out of the facility.
Anyone ages 2+ must wear a mask to enter & exit the facility.
Anyone ages 12+ entering the facility needs to show proof of vaccination and ID. An individual is considered fully vaccinated 14 days after their second shot.
Our enhanced cleaning routines will stay in place for the foreseeable future.
Buns are Best & Uniforms
A friendly reminder that all ballet & acro students should wear a proper, 'dancers bun' to their classes, unless their haircut is very short. No idea what a dancer's bun is? Check out this great how-to video: https://www.youtube.com/watch?v=tMj_eaRML1w Wearing your hair in a bun ensures that students can concentrate on what is most important in class – learning and developing a love for dance! You can purchase a bun kit for $5.00 at the desk if you need supplies.
All children in our Dance Development to Level 12 classes should also be wearing their uniform to class each week. The two dancewear stores that generally keep our uniform in stock are Dancewear Plus and Pointe & Pick.
Class Spotlight – PBT
Progressing Ballet Technique is a program to help students advance by training muscle memory. PBT focuses on core stability, weight placement and alignment. Add this class to your dancer's January schedule and see the difference it makes in their other dance classes! Classes available for ages 8 to adult.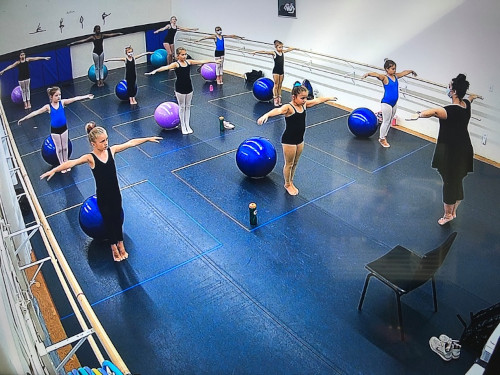 London Community Votes
Nominations are still open for favourite dance studio in London. If we have earned your vote, please click the link below and click our school NORTH LONDON DANCE CENTRE. This award accepts votes every 24 hours, until Sunday, December 19 at 11:59 pm.
https://london.communityvotes.com/2021/09/sports-recreation-and-fitness/dance-lessons?fbclid=IwAR1G0ZL3MYXVILHeARpe_W_vlVeM6NX2UEEKj10gTpiIY11bORF1ZQN54Uc
PA Day Dance Camp – January 14
Only 10 spots are still left in our Moana-themed PA Day Dance Camp on Friday, January 14. Register online today at www.northlondondancecentre.ca/camps and have your child spend the day moving with Ms. Alexia & Ms. MacKenzie.

As always, thank you for trusting us with your family's dance education. We know you have other choices, and we're glad you're with us. We thank you for your support. ☺
Kelly Hajar, Director